Delivering Effective Professional Development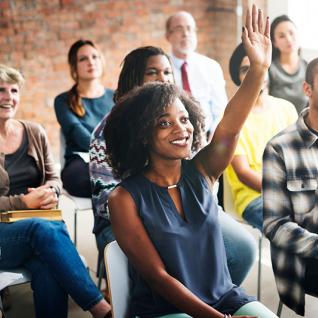 Delivering Effective Professional Development
last update on: 07/28/2022
Welcome to the AFT's Delivering Effective Professional Development (DEPD) course. This course is a pre-requisite to all the other AFT courses. If you are taking this course, you are either a candidate for the upcoming Summer Academy; a trainer who needs a refresher or a professional development coordinator who is planning to host a retreat for trainers in an existing program.
Through the collaboration of educators and researchers, the content was designed to specifically assist educators become more skillful in their classrooms, and at the same time, strengthen the union. This course will prepare you to be an effective trainer, a successful learner, a creative implementer by giving you guidelines on how to be an effective facilitator, and how to develop and sustaining a professional development program for your local. The program also allows for continuous learning and provides validation of existing practices. 
**Please note that this is a self-paced course.
---
Technical Requirements:
Only use a desktop or laptop - Please only use a desktop or laptop computer to complete this course. You will not get full credit if you use a tablet or a mobile device.
Please use Google Chrome and not Internet Explorer - currently this site does not support Internet Explorer and is most compatible with Google Chrome.