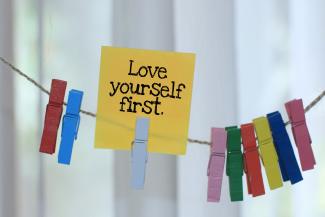 Yup, I said "stinky." This year has been a stinky year for many of us. Living in a pandemic, natural disasters, and just regular life challenges can be more than difficult. And we might not be taking the best care of ourselves when we have a lot going on in our lives. We get busy taking care of everyone and everything else. We need to take time for our own needs.
We do get some reminders to take care of ourselves. For example, the announcement when you are traveling by air: "Put your mask on before assisting others." Now we are all wearing a (different type of) mask we have to take off to put the oxygen mask on. It can be the easiest to neglect ourselves, even though we are with ourselves all of the time. So, why not take some time dedicated to our well-being?
Self-care does not have to cost a lot of money or take a lot of time. Self-care may not look like much to the observer. Self-care might simply be taking time to listen to some jazz music and having a cup of coffee. This does take dedication to yourself. Self-care might also mean not making a deadline or delaying a project. So, why not take time for yourself when you are meeting other deadlines, working a full-time job and taking care of family obligations?
I am sharing a way to love yourself I call "love pats," which are like a pat on the back, and help you to love yourself more. Feel free to add your own love pats to the list, and share this with a friend.      
💗Wake up every day with gratitude.
💗Give yourself a big hug and say, "I love you me!"
💗Drink half of your body weight in ounces of water daily.
💗Try to move your body two to three times a week. For example: yoga, walk, swim, run.
💗Practice being still and breathing.
💗Read 10 pages of a good book.
💗Give someone a compliment.
💗Just smile. It looks good on you.
💗Write down five things you are grateful for.
Stop being stinky to yourself and take some time for self-care. I promise, you will be glad you did.
View on-demand, DeAnn Albertson-Fontanella's most recent session in the Health and Wellness Series, Mindfulness and Yoga with Grand Love. Join Share My Lesson's Health and Wellness Community here.
DeAnn Albertson-Fontanella
DeAnn Albertson-Fontanella is an itinerant early childhood intervention specialist for the Cincinnati Public Schools, co-facilitator of the AFT Teacher Leaders Program, and a yoga instructor. Follow her on Facebook, Global Grand Love DeAnn and Moxie.