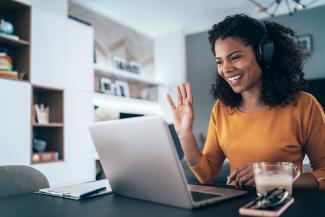 Welcome to
AFT eLearning
A distance learning and community platform specially designed for AFT members.
This course will prepare you to be an effective trainer, a successful learner, a creative implementer by giving you guidelines on how to be an effective facilitator, and how to develop and sustaining a professional development program for your local. The program also allows for continuous learning and provides validation of existing practices. 
This online community is a space for our AFT political leads to access resources, templates, toolkits, important dates and updates as we work to win elections.
2023 AFT Virtual Conference
We are so excited to share that the 2023 Share My Lesson Virtual Conference is now open for business. Join us March 21-23, 2023, for the virtual conference event of THE year! 
eLearning Benefits
Distance learning and community from the comfort of your own home.
Convenience
Enjoy facilitated and asynchronous self-paced courses that meet the needs of any busy schedule.
Community
Join communities and engage your AFT colleagues from across the country based on your constituency, course, event or topic
Professional Development
Advance your career by taking distance learning courses and earning a certificate for every course you take.