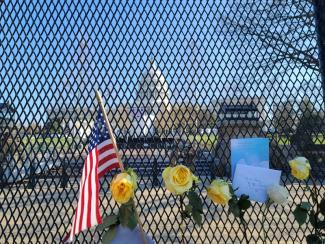 Flowers and notes of encouragement pinned to a fence outside the U.S. Capitol. | Andy Kratochvil
Resources for Teaching About Insurrection on Capitol Hill
On Jan. 6, 2021, the world watched as an insurrection unfolded live on TV and right in front of our eyes. A mob infiltrated the U.S. Capitol in an attempt to disrupt the election certification. We have seen scenes like this happen before in other countries, but this time it was happening in Washington, D.C.—the home of our federal government. And, rather than another country attacking our symbol of democracy, it was American citizens—perhaps our neighbors, family members or even local government officials. As Lisa Thomas wrote in her Jan. 7 blog, "The world is watching and has been watching for the last four years" as these seeds of discontent were spread around the country and captured on social media platforms for all to see.
As educators, you are also faced with having to talk to your students about what they saw, and how they think and feel about the events of Jan 6. At Share My Lesson, we work with amazing partners who were able to upload resources quickly to get them in the hands of educators who need them. Here are some of those incredible resources that we hope you can use in your classroom.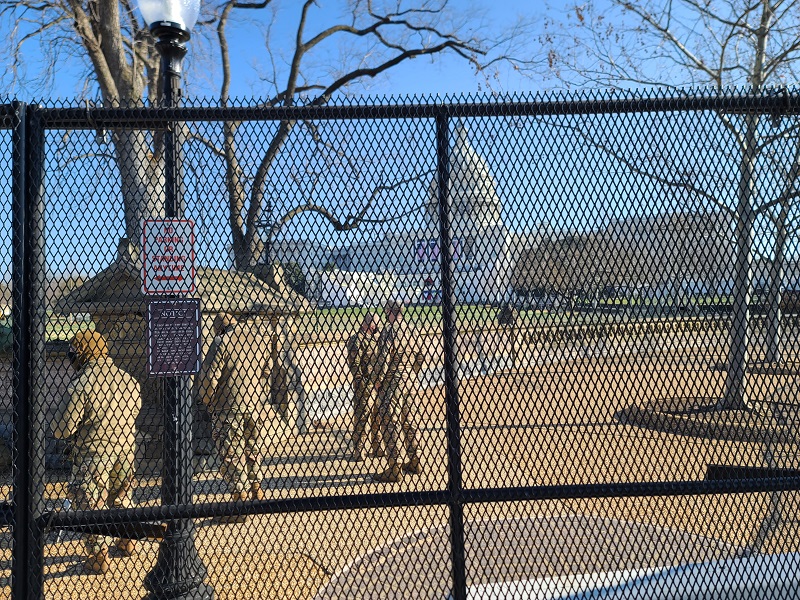 Resources for the Classroom: Teaching about Insurrection
PBS NewsHour Extra has been partnering with Share My Lesson to bring you Today's News, Tomorrow's Lesson for many years. Teaching about insurrection can be a sensitive topic, but it was ready to provide our educators with the best news articles that can be used in the classroom. One of these resources, Three Ways to Teach About the Insurrection at the U.S. Capitol provides excellent video clips and activities to help your students learn about the events. Another resource, How to Engage Students in Civil Discourse Following the Insurrection at the U.S. Capitol provides teachers with different ways to invite students to discover and voice their opinions about the events at the Capitol. Also, Share My Lesson partner Colorín Colorado shared this resource aimed at helping English language learners and immigrants understand the events.
C-SPAN Classroom has been a trusted resource in news for decades, and it has provided Share My Lesson users with video clips they can use in their classrooms to show students the events that were occurring before, during and after the insurrection at the Capitol. These resources also have related articles and materials to help educators frame their discussions with students.
It is important for students to know and understand the background and process of elections that preceded the events of Jan. 6. The National Constitution Center has many resources, such as Foundations of American Democracy, Contentious Presidential Elections and The Election and the Constitution: Complete Resource List that will help provide your students with the historical background of past elections. This resource, from the Constitutional Rights Foundation, will help students understand the Electoral College and what members of Congress were doing at the Capitol.
Most important, however, is helping students reflect on and express their feelings about the events at the Capitol. Morningside Center for Teaching Social Responsibility has shared a resource about American democracy during the first week of 2021. This lesson helps students talk about what happened and its effects on democracy. The ADL offers this resource to start the conversations about political violence and extremism in the U.S., as well as this blog on the dangers of spreading misinformation.
Talking to your students about the events of Jan. 6 begins with understanding where they are coming from and what they want to talk more about. We hope these resources will help pave the way during these difficult conversations.
If you are looking for additional resources on teaching current events, check out our newly updated Inauguration Lesson Plan collection. 
Share any additional resources with us in the comments section.
By Ami Turner DelAguila
---