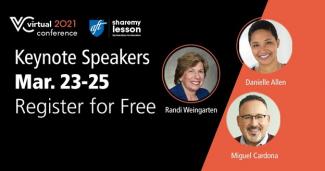 Pick Your Sessions March 23-25
On Tuesday, we kick off our ninth AFT Share My Lesson Virtual Conference. This is a free annual event that offers 40-plus webinars on topics that are relevant today. I am excited to share that our new secretary of education, Miguel Cardona, will be one of our keynoters. Cardona was selected as secretary because of his experience when it comes to educating students and working together to meet the needs of an entire school community. This keynote will be a firsthand opportunity to hear directly from the secretary about the Biden administration's plans to invest in the safe and equitable reopening of our school buildings and the academic, social and emotional support that is required. 
This has been a time like no other, where you have been asked over and over to do the impossible. It has required constant pivoting, and once again, many of you are adjusting your teaching style as we reopen school buildings and shift to concurrent or hybrid teaching, or fully in-person classrooms. With so many shifts, over a year into the pandemic, comes real challenges of ensuring that everyone is safe, and then meeting the emotional, social and academic challenges of our students, teachers and support staff. That's why we'll be offering webinars focused on mental health and trauma-sensitive practices, in addition to a track focused on distance learning, concurrent teaching and what reopening in person requires. 
In addition to COVID-19, this has been a year of reckoning with racism and hate, including the recent attacks on Asian Americans in Atlanta. The continued mistreatment of people of color must end. Our schools need to be actively anti-racist and have intervention- and prevention-based programs to address hate and bias. That starts with us. That's why we'll have a track focused on anti-bias education and culturally responsive teaching, and we will continue to build a library and professional development workshops dedicated to being anti-racist beyond this conference. 
We also have to look no further than the incident at the Capitol on Jan. 6 to know we have a threat to our democracy. Our democracy depends on an informed electorate understanding the rights and responsibilities of citizens and having the ability to discern fact from propaganda. Our keynote with Danielle Allen will cover an educating for democracy road map on how we reclaim civic and history education in our schools. In addition, we have a track focused on civic engagement and current events. 
And of course, I will be joining you for a keynote on night two to discuss our path forward and answering your questions as well. 
I hope you will join us for one or more conversations this week. All the webinars are free and will be available on demand if you cannot join us live. You can also download a PDF certificate of participation. If you are a New York state educator, our webinars are now CTLE approved.
2021 Share My Lesson Virtual Conference
March 23-25
Keynotes:
Roadmap for Excellence in History and Civics for All Learners 
Danielle Allen, Director of Harvard's Edmond J. Safra Center for Ethics, with iCivics 
Tuesday, March 23 
5:00 p.m. EDT 
The State of Public Education 2021 
AFT President Randi Weingarten 
Wednesday, March 24
6:00 p.m. EDT 
Priorities to Support Our Students: A Conversation with U.S. Secretary of Education Miguel Cardona 
Secretary of Education Miguel Cardona 
Thursday, March 25 
5:00 p.m. EDT 
Subject Tracks: