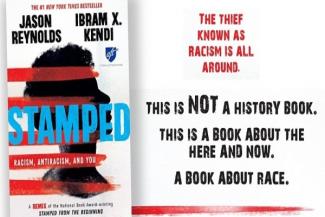 By Randi Weingarten
Transforming Ideals into Action
Together we can accomplish great things that would be impossible to do alone.
This is so true in any fight for a better world—the fight against systemic racism, the fight for sufficient and equitable funding for our public schools and services, or the fight for economic security and environmental justice for all. There is power in numbers—not power for its own sake, but power to transform our ideals into action. I am inspired by the many young people who are coming together to challenge injustice and to participate in many of the most vital movements of our time, including the fight for racial justice.
In Stamped: Racism, Antiracism and You, Jason Reynolds and Ibram X. Kendi don't pull any punches when connecting the dots of centuries of systemic racism, xenophobia, homophobia, sexism and classism that powerful forces have used to increase their wealth, stifle freedom and sow division. They show how destructive policies continue to foster unjust outcomes for millions of Black, brown, and Indigenous people, which in turn hurts us all. But the authors give us hope and insight about how this generation of young people is uniquely Stamped--equipped to resist injustice, to be antiracist and to show empathy, openness, and acceptance. I believe Stamped can play a vital part in America's long-overdue reckoning with racism. The authors lay out the pervasiveness and insidiousness of racism in our lives, even as the history and legacy of racism often are left out of what we are taught and told. Their words have the power to transform the way we look at the world—to deconstruct false narratives, appreciate diversity and differences, and, crucially, to recognize and confront our own racist ideas. I wish I had a book like this when I was a young student.
Now my wish is for young people throughout America to have access to Stamped, which is why we are proud to work with First Book to make this hugely important book widely available to students, educators and communities. With Stamped in libraries, book groups and young readers' hands throughout America, I believe that together we can do great things to address racism that would be impossible to do alone.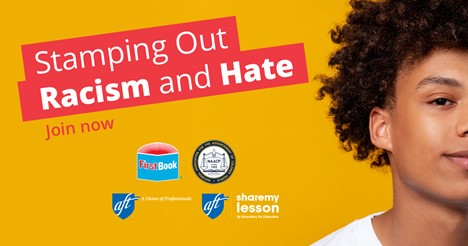 If you are teaching Stamped and want to share thoughts or resources – or if you are looking for more lessons that are part of First Book's Empowering Educators toolkit, be sure to check out Share My Lesson's Stamping Out Racism and Hate community. You'll find ideas and lessons to support anti-bias, anti-racism dialogues and school / community initiatives for the longer term.
Explore more resources below:
---