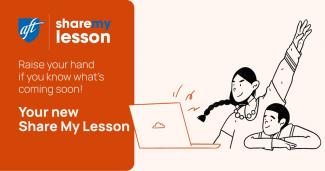 The time has come, and we're giddy!
As I may have mentioned … the AFT's Share My Lesson has some exciting new features for you, today! Our new Share My Lesson website brings you the same great content you expect, but with new features we hope you love, so you have a powerful and dynamic tool to add to your toolbox for success. 
As we were planning the redesign over the past year, we held focus groups and hosted surveys to hear directly from you, our SML members and content partners: What do you like best about the site? What had room for improvement? 
You told us how valuable the search feature is and how much time it can save you. We all know time is precious, so we made this feature even better with streamlined ways to move around the site with some fun new illustrations. 
You told us you aren't all classroom teachers and paraprofessionals, but also specialized staff, parents and counselors. So we expanded how to find resources based on how you interact with kids and adults. If you are a teacher, a family member or caregiver, a paraprofessional, a specialized instructional support person, a member of the higher education community or an AFT member, you'll find resources more easily to suit your specific needs.
You also told us that new ideas and inspiration were just as important as high-quality, timely content from trusted partners. So we reimagined how to prioritize this type of content, including how we share the latest current events lessons and blogs on the site, as well as adding a new area for topics to teach this month and ways to use tags to explore relevant topic areas. 
 
So, we heard you, and we're excited to see what you think! The site is easier to use and easier to search, and it reflects what you—our educators, school staff and families—told us you need to help all students thrive—socially, emotionally and academically. Our hope is that you'll find the new site to be fresh, fun, inspirational, helpful and informative.
Join Share My Lesson's new community on Facebook where we'll share tips and ideas with other Share My Lesson members and you will be the first to know when we add new features to the site. As part of our new relaunch, we've updated our Terms of Service and Privacy Policy.  

See you online!