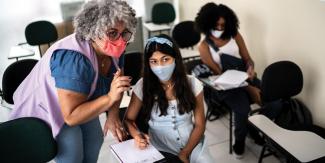 The United States has a long history of exclusionary immigration and refugee policies. Biases casting certain immigrant and refugee groups as threats to Americans' health, safety, and economic well-being underlay our unwillingness to aid Jewish refugees in the 1930s, resentment of Vietnamese refugees in the 1970s, and searing images this fall of federal agents on horseback chasing Haitian migrants from the US-Mexico border.  
2021 has been brutal for the people of Haiti and Afghanistan, as political upheaval in both countries—and a magnitude 7.2 earthquake in Haiti—has resulted in many thousands seeking a new start in the United States. This school year, classrooms across the country are welcoming new Haitian and Afghan students. Many are still reeling from the trauma of their experiences, and their academic, social, and emotional needs are immense.
Here, we highlight resources to help educators support these students in their transition, create awareness about immigrant and refugee experiences, and build welcoming, inclusive classrooms.
Creating Awareness Through Storytelling
Storytelling can create empathy for and understanding of human experiences. In "Telling the Family Story," students in grades K–5 narrate and illustrate their immigration experiences and receive printed copies to share. Created by a teacher of English language learners who won a grant from Share My Lesson partner Teach Immigration, a key goal is for children to share their stories in public readings to acknowledge immigrants' struggles and celebrate their triumphs.
Older students can combine storytelling with technology in "Podcasting the Immigrant Experience," a three-week teacher-designed unit (also from Teach Immigration) intended for eighth grade. Students record and edit interviews of family or community members to create stories of immigrant experiences that enrich their understanding of the triumphs and struggles of building a new life in the United States.
For grades 9–12 is Brave Girl Rising, a 20-minute film about 17-year-old Nasro, a refugee from Somalia. The story is told through five poems that highlight Nasro's experience of leaving home to exist in "the in-between" and celebrate the resilience of refugees. The accompanying resources by Share My Lesson partner Girl Rising include a character map, discussion and reflection questions, and a fact sheet detailing the impacts of the refugee experience on children and families.
Building an Inclusive Community
Acclimating to a new culture is stressful—and this stress is compounded when newcomers encounter racism, xenophobia, or anti-immigrant sentiment in their schools and communities. Educators can help by better understanding the factors that make moving to a new place with a new culture so stressful and ensuring new students feel welcome, represented, and supported in their classrooms.
"Understanding Immigrant Trauma," a resource guide created by Share My Lesson partner the Immigrant Learning Center, includes practical tips for teaching and advocating for new students. The Share My Lesson webinar "You Are Welcome Here" and Colorín Colorado's "Welcoming Afghan Families" provide lessons learned from Dearborn Public Schools in Michigan and the Austin Independent School District on preparing for and supporting immigrant students who have experienced trauma. (Bonus: the SML webinar offers one hour of professional development credit.)
Finally, students can learn from the example of a Vietnamese community in Seattle that is reaching out to Afghan refugees. This resource for grades 6–12 is based on an episode of the PBS NewsHour Extra series "Chasing the Dream" that highlights Viets 4 Afghans, a group created to support the resettlement of recent evacuees from Afghanistan. Following the video, students reflect on similarities in refugee experiences, the challenges of resettlement, and ways that they can help.
These are just some of the resources available to help support students with traumatic immigration experiences and help reframe the immigration narrative with empathy and understanding. Please share your expertise by uploading your lesson plans at sharemylesson.com and reach out to us with any additional ideas or requests at [email protected].