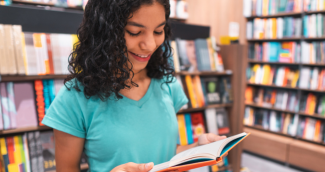 By Amber Chandler
Reading logs. Double entry journals. Stop and Say Something annotations. There are lots of ways to hold kiddos accountable for their reading, and I am always willing to try new approaches, such as sketchnoting, which went really well this year. However, I have to admit, I have reservations about how any of these accountability measures will deepen a student's love of reading, which is kind of the point, right? 

As an ELA teacher, probably one of the most conflicted philosophical struggles I have is this: How can I make sure that students are learning what they need to in terms of comprehension, literary terms, author's purpose, etc., while instilling a deep love of reading? The truth is, there's a bit of a truce in my classroom: I'll offer a variety of ways to interact with the text, and I ask that students engage with one of the methods I offer them. This isn't a new struggle for me, which you can read about in my MiddleWeb blog post from 2015, "Can We Talk About Sustained Silent Reading?"

Right now, we are reading Stargirl together so that I can model how to think about their reading and review the literary devices and figurative language that they need to learn to be successful, and I plan to offer students the opportunity to form book clubs after the holidays (you can check out the lessons on my website). There's a couple of ways I can structure the book clubs, but I like to allow students to form them, and since the majority of their work will be digital, they will actually be able to work with students in other classes. I'm lucky that our library resource center has book club copies of books (sets of five), but in the past, students have formed smaller groups of two or three. Once they have formed their groups, they'll have three tasks before they can begin. 
Chunk the text into reasonable daily assignments. I'll provide a calendar that will let them know which days will be reading days, which days will be discussion days (in person or digitally on discussion boards if they are in different classes), and which days will be "show what you know" days where they'll have to choose an activity to demonstrate their knowledge. 
 
Meet with me so that I can double-check their book club choice. They are welcome to sell me on a "reach" book or the value of reading a book that is much lower in reading level than they are capable of if they have a good reason. (Stargirl is a perfect example; the text is Lexiled at 630, but the interest level and discussions about bullying, existentialism and individuality more than make up for a lower reading level.) 
 
Choose options for quizzes and tests from the Independent Reading Assignment list. Students in the book club will work collaboratively to do these assignments together. They should use Google products so that it is clear where, when and how often students contributed to the work. 

The reason that I am offering book clubs is that the pandemic has simply decimated students' interpersonal skills, and their ability to recover from the isolation and trauma depends on educators offering students the opportunity to talk about what they are learning, communicate with each other, and achieve academic success through collaboration. I want my students to improve their reading stamina and comprehension—as I tackle the pandemic learning loss that many people are talking about—but I also want them to grow as humans who have experienced an interruption in learning AND in their lives. As for me, when my life has seemed too much to bear, I've found solace and inspiration in reading, and I'm confident that if given the time and tools, my students will too. 
Additional Resources