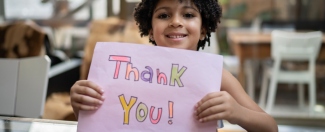 By Amber Chandler
I know that there are those who don't like "appreciation weeks," as teachers should certainly be appreciated year-round. However, while I'll agree that we should be appreciated, I'll also argue for an intentional celebration, particularly during what I've taken to call "pandemic times." With remote learning, Zoom calls, hybrid learning, ordering groceries online, putting our mail in the freezer (for the record, I didn't do that, but I know a bunch of people who did), and drive-by birthday parades and virtual gender reveals, it is no wonder that our common sense and courtesy might have taken a hiatus, thus leaving our love of teachers on the long list of niceties that may have faded away. This teacher appreciation blog is also a mea culpa that I've likely taken my own kids' teachers for granted since I'm too busy surviving, and I owe them thanks every single day. I'm guessing that other mostly responsible adults have also lost sight of the amazing work that teachers have been doing all year, so here are my unconventional ideas for appreciating teachers during these pandemic times.
Sing It from the Rooftops 
Remember when teachers were popular? Remember when everyone was calling educators heroes? Let's go back to that. For every post you see complaining about a teacher, write a positive post. For every sideline conversation you have where teacher bashing is happening, go hard and defend us. Share your positive story. Write a letter to the editor. Call your local news channels and ask them to run a story about the amazing teachers still showing up in big ways for your kids. Email the principal, superintendent and school board, mentioning teachers by name. Go to a school board meeting; during the community comment period, simply state that you are happy your children have great teachers. I'm not above asking for a billboard, but that seems complicated. You get the point. Talk teachers up! 
Buy the Gift Cards
Everyone, teacher or not, loves a gift card. It's like found money, right? Someone else is telling you that you deserve that mani, pedi, latte, or new pair of comfy socks. Teachers famously put others first, but the gift card is a great way to make sure that we treat ourselves every once in a while. Over the years, I've gotten coffee, ice cream, movie ticket, spa, Target, and Amazon gift cards, and I assure you I've loved every single time I've been appreciated in this way. I'll also tell you, a well-timed $5 gift card is as valuable as a full spa day. Case in point: This year, we took our team of 120 students to the zoo. These students hadn't been on a field trip since elementary school, and most hadn't been pretty much anywhere in over a year. At the end of the day, a student came up to me and said, "My mom said you'd need this," and handed me a $5 gift card to Tim Hortons, our local coffee obsession. The student's mom was right, and I treated myself on the way home, so incredibly happy that someone had recognized that my job might be just a tad challenging on that particular day. Being seen is highly underrated, so look around and find a teacher doing their job on a regular old day, and let them know you see that they are special.
Write the Probably-too-Personal Message 
I'm not a big crier. I'm definitely not a cry-at-work type; but when I do, it is usually a sobbing mess. What pushes me over the edge? The probably-too-personal message. It's like the fourth wall coming down somehow. When a parent or grandparent or foster dad sends me a message that is both appreciative and vulnerable, I just can't control the emotions. Probably, I find this message to be so important because I am intensely private about my personal life. People who have known me for years are often surprised if I reveal a struggle or insecurity. I'm working on this, but I am not one who wears my heart on my sleeve. This year, I've forced myself to embrace the "vulnerable parent" role I find myself in, and I have sent the probably-too-personal message to my own kiddos' teachers. Why now? The fact is, my family has struggled through the last several years, and one of the best things I've been able to count on is that my kiddos' teachers are going to understand the complexities of our lives. I often start these emails with, "I know Zoey isn't your only student, but thanks for making us all feel like she is" or "I know Oliver isn't the only student who needs a little extra grace right now, but I am so appreciative that you are taking care of him." In my experience, being honest about your own struggles and those of your kiddos with their teachers goes a long way toward deepening the relationship. Give yourself permission to be real with the people you entrust your children to and make sure you share your appreciation with them.
As I worked on this blog, I scrolled through hundreds of comments left on a Facebook post asking, "What should I do for my kid's teacher for Teacher Appreciation Week?" The theme, over and over, came around to this: Tell them how you feel, and show them that you appreciate them. That's it. Candy? Sure. Lunch? Sure. Beach Towel? Sure. It doesn't matter what you give them, but from the many responses, and my own need to be seen and appreciated, one thing is for certain, and it is this: Teachers may deserve appreciation all year long, but you are never going to go wrong by intentionally celebrating the people we entrust our children to.