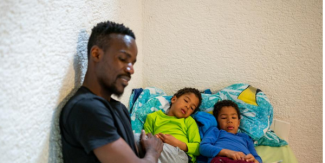 By Virginia Myers and BTU Communications Staff
Reading is fundamental. We all know that. So what happens when language becomes a barrier to reading? When the focus on English-only literacy excludes families whose first language is, say, Haitian Creole?
In Boston, what happens is the Boston Teachers Union's Haitian Educators Committee rises up and takes care of business. Eager to engage families in the Haitian community, BTU members are intent on finding new ways to support the children in their community with dual-language teaching and books.
Using a $15,000 grant from the jointly organized Boston Public Schools/BTU Teacher Leadership Fund, the team has started a workshop series to provide Haitian families with access to texts, information about the benefits of learning in two languages, skills for supporting their children's literacy development and additional helpful resources. Families are responding enthusiastically.
The Haitian Educators team—BTU/AFT members Bianca Pierre, a family liaison; Carline Louis-Letang, a school nurse; Yvrose Bourdeau, a K-1 dual language teacher; Josette Teneus, a high school guidance counselor; and Steve Desrosiers, a family education coordinator—knows the research, which shows that a strong base in a student's home language bridges and supports their knowledge of English while also having cognitive, social, academic and career benefits. Overall, the team is working to shift families' perception of having "English only" be the target, and to address the limited availability of texts and other resources written in Haitian Creole.
Their goal: to work together to help as many families as possible support their children on their biliteracy journey.
At the first workshop, on Oct. 19, team members welcomed more than 40 families. Originally planned as a Zoom meeting, organizers adjusted when they realized the platform was not as convenient for the families as they'd anticipated. "Ninety-five percent of my students are new to this country," says Bourdeau. "Parents are new to the school system, and they did not have the tools to access the workshop on Zoom." But they did have the enthusiasm to participate in person, in Bourdeau's classroom; one even offered to bring dinner for everyone. In the end, the workshop was a hybrid of in-person attendance and Zoom.
"I learned that even if the parents are new and don't yet have the tools that we think they should have, as educators we have to meet them where they are until they gather the necessary tools," says Bourdeau.
"I love how families interacted with the presenter and focused on the topic 'Reading with Joy,'" says Teneus. "It was definitely a joy to see the grandparents and fathers with the children engaging in the Zoom workshop."
The project will involve three more sessions; the next one, on Nov. 16, will cover the importance of home language in students' learning. To make the workshops more accessible to more families and to broaden the impact, each workshop will have translations available in both Haitian Creole and Spanish.
Teneus stresses the effort's potential to have an impact on families: "Literacy is a need for all children and families from all cultural backgrounds, and we welcome everyone who wants to be in attendance," she says.
The impact is going beyond literacy, says Bourdeau. "Parents are sending me videos of them and their children interacting with each other. Students have a lot to share about their families in the classroom. Parents are showing up to events in school."
The team is excited for the potential continued benefits of this project, says Pierre. "The families who attended were grateful and excited for the upcoming workshops. The need for equitable access to literacy affects every under-resourced family in the district, and I hope the Reading with Joy project can continue to be a resource for our families throughout the years to come."