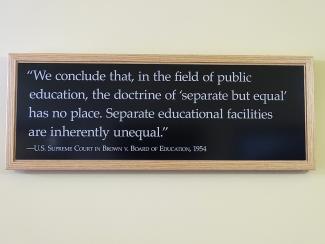 By Virginia Myers
Every February, a chorus of voices proclaims Black History Month. But the truth is, we must insist on a more complete understanding of this country's origins every month and every day, especially in our public schools.
And that's what the AFT does. From its history of upholding justice within its own ranks and its fight for fair policy at the national, state and local level, to its rich collection of resources that help educators teach about the history and the contemporary experiences of (in)equity and race, we value and amplify Black history and work toward a more hopeful Black future, all year long.
A history of commitment
When the AFT first came together in 1916, it was under the hands of women who didn't even have the right to vote. We have leaned into inclusion — across gender as well as race, religion and nationality — ever since.
During the civil rights movement, we filed friend of the court briefs in Brown v. Board of Education, the historic Supreme Court case that desegregated schools in 1954. In 1955, the AFT required that its white and Black locals merge, and those that refused to do so were expelled from the union; the principled edict cost the union thousands of members.
In the 1960s, we fought for integrated schools in the South when such a stance was not just unpopular, but dangerous. This video tells the story of the Freedom Schools, where AFT members volunteered to teach Black children who were otherwise denied education: White families had shut down public schools rather than send their children to class with Black students. This story tells of the late John Raines, an AFT member who participated in Freedom Rides and was jailed for his efforts, then later turned to burglary to steal FBI files revealing surveillance of civil rights activists.
AFT leaders have included such civil rights leaders as Mary Church Terrell, the daughter of former slaves who became the first president of the National Association of Colored Women and one of the founders of the NAACP. Terrell also helped found the first higher education teachers union in the country, AFT Local 33 at Howard University. African American statesman Ralph Bunche, undersecretary of the United Nations and a Nobel laureate, was an early member.
Today, we continue to rely on Black leadership from such powerhouse unionists as AFT Secretary-Treasurer Emeritus Lorretta Johnson and current AFT Secretary-Treasurer Fedrick Ingram. Many of our biggest locals are led by Black members, including Chicago Teachers Union President Stacy Davis Gates, United Teachers Los Angeles President Cecily Myart-Cruz, New York State Public Employees Federation President Wayne Spence and so many others.
Continued inclusion
Over the last few years, AFT delegates have passed many resolutions that codify the union's commitment to antiracism. They vow to prioritize culturally responsive curriculum and antiracism, uphold educational equity, support Black lives, advocate for culturally responsive educational assessments, reject hate speech, combat white supremacist terrorism and more.
On the ground, AFT members are making a difference every day supporting equity and racial justice by advocating for just education, public health and public worker policy; helping elect public officials who will uphold the values of working families; and supporting everyday programs that serve every community member, regardless of race or creed. This year's Black History Month theme is resistance: In some cases, our members are resisting just by doing their jobs, teaching children from books that have been banned for racial content, and expanding their lessons to include all of history, not just the whitewashed version. Here are a few examples of resistance from the AFT and AFT members:
Creating community at George Floyd Square
When George Floyd was murdered by police in 2020, protesters flooded the streets. Then a community of people stayed, creating a memorial and meeting place. There they kept pushing for justice, working to win resources for Black communities — organizing to support Black businesses and provide jobs — and holding law enforcement accountable for violence. The AFT was in the thick of this movement with AFT member Marcia Howard and others.
Protecting the right to teach Black history
United Faculty of Florida and the Florida Education Association are fighting the Stop WOKE Act, a law that limits what teachers and professors can discuss in class regarding race and Black history. Members have sued the state over the statute, trying to protect the right to teach true history.
Members in New Hampshire have sued the state over the "divisive concepts law," an attempt by the state to restrict the way discrimination, diversity, bias, justice and struggle are viewed or taught.
Reclaiming Black history
Faculty at the City University of New York have reclaimed hard-to-access history for descendants of enslaved Americans by creating a searchable Slavery Records Index that tells fascinating and heartbreaking stories of the past.
Providing tools for teaching
Our free online resource, Share My Lesson, has a rich collection of resources about Black history and contemporary experiences that is on tap year round. Designed by educators for educators, these lesson plans, videos, handouts and teacher trainings cover a wide range of topics, including Sally Hemings at Monticello, Black opera singers, Black scuba divers exploring sunken slave ships and Questlove's Summer of Soul.
Our journals, American Educator and AFT Health Care, the AFT Voices blog and the AFT news page provide information and inspiration not just for our members but for anyone interested in and committed to equity and inclusion. From articles about African American Vernacular English to analyses of how student debt hits Black borrowers harder than it does white borrowers, our collections are designed to make people think, learn and act.
Supporting Black students
Our affiliates have embraced Black Lives Matter at School, a week of action when educators and communities can focus on the important work we must do to keep Black students feeling safe and welcomed in the place that should be nurturing and protecting them most.
Stamping out racism
The AFT's Stamp Out Racism campaign distributed copies of Stamped, by Ibram X. Kendi and Jason Reynolds. This youth-oriented version of Stamped from the Beginning addresses the history of racism and how it influences our world today.
Embracing the best resources on race education
The AFT supported The 1619 Project and hosted its creator, Nikole Hannah-Jones, at a panel discussion for members. The sweeping package of learning materials linking Black history with racism today has been instrumental in elevating the importance of teaching true history.
Amplifying the message
When the AFT hosted Ibram X Kendi as a keynote speaker at TEACH 2021, where he spoke about his book How to Be an Antiracist, he was just one of many Black thought leaders welcomed to panel discussions about a variety of issues, from the Jan. 6 insurrection to Black History Month itself. We have also deliberately followed the lead of our Black members and their community partners in some of our most important community work, and amplified it to our members and to the public.
Celebrating bright moments in Black history
Many of our members routinely share lessons about Black joy, including the Juneteenth holiday, when we celebrate a late announcement of emancipation in Texas.
Looking back on this country's difficult history, it is hard to be optimistic, but we stand with so many other activists who cling to the adage that "the arc of the moral universe is long, but it bends toward justice," a phrase repeated often by the Rev. Martin Luther King Jr. The AFT intends to keep bending that arc until justice comes into view more frequently and all our members and the people with whom they work have access to it.
This story was written by AFT Communications Specialist Virginia Myers. Want to see more like this? Subscribe to AFT e-newsletters.
Republished with permission from AFT Voices.