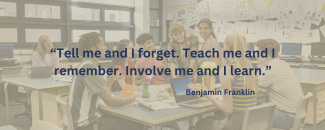 Looking for project-based learning lessons can be an easy Google search, but finding resources that are both captivating and applicable can be a challenge. Ending up with resources that lack substance or aren't adaptable to your needs is the last thing you want.
Did you know research shows that implementing rigorous project-based learning activities promotes greater student success and equity? That's why the AFT collaborated with local union members across the country to create three new lessons to help high school students tap into the benefits of experiential learning. These lessons are now accessible on AFT's Share My Lesson platform with both quality and adaptability in mind.
The AFT is excited to share these new, teacher-created lessons for grades 9-12. The lessons can be delivered by a grade-level team or used by individual teachers to inspire their students to engage in solving real-world issues and connect their learning to the issues that matter to them, their schools and their communities. Project-based learning lessons such as these provide memorable experiences because students are able to see relevance across subject areas, and they can apply the learning to their lives.
Methodology
To develop these lessons, we first formed two thematic focus groups to delve deeper into climate change and financial literacy. Teams discussed these two questions: 
What are the critical topics of the day that every subject area teacher could teach? 
What should the driving question be for these project-based learning lessons? 
The 10 AFT members involved in these focus groups decided the driving question for climate change would be "Will our Earth still be here on my 60th birthday?"
Among the driving questions for financial literacy, the members decided the lead question for the Marketing My City lesson would be "Should I start a business in my city?" And the lead question for the Banking on My Future lesson would be "How do my banking decisions impact my future prospects?"
Participants
We then recruited members and formed two design teams made up of 10 teachers from eight AFT locals: 
Buckeye Local Classroom Teachers Association (Ohio);
Cleveland Teachers Union (Ohio);
Crestview Employees' Association (Ohio);
Cy-Fair AFT (Texas);
Goreville United Federation of Teachers (Illinois);
North Suburban Teachers Union (Illinois);
Rhode Island Federation of Teachers and Health Professionals (Rhode Island);
Washington Teachers' Union (Washington, D.C.).
These teachers created these lessons with guidance from the initial work done by the focus groups. 
Lessons for Experiential Learning
You can download these robust experiential learning lessons now. Please share them with your colleagues: 
Want more? The organization PBLWorks offers a variety of sample lessons and resources to use with project-based learning. You can also check out Chicago Public Schools' PBL resources or if you want to create your own lesson, peruse Cult of Pedagogy's "How to Create a Project Based Learning Lesson." You can also check out more preK-12 project-based learning lessons from AFT members here.