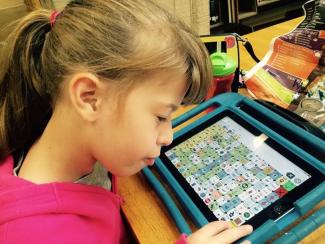 By Heidi Goger 
The impact of artificial intelligence, including chatbots such as ChatGPT and most recently Llama 2, and other forms of AI are constant topics in the workplace and in the media. Discussion focuses on AI's impact on national security, political disinformation, and implications in educational settings to name several areas of concern. However, AI is not a new concept in the area of special education. AI is the foundation of high-tech assistive technology used by students with identified disabilities. Most notably, software and assistive technology devices capable of performing human-like cognitive tasks have been used to support students with disabilities as categorized by the Individuals with Disabilities Education Act (IDEA) for decades. 
*The word "disability" as used in this context does not denote a deficit in individual learning ability. Rather it refers to students who have undergone the special education evaluation process and been found eligible to receive specially designed instruction.*
Some of these students may also be considered neurodiverse learners; however, every neurodiverse learner is not eligible to receive specialized instruction and accommodations such as assistive technology. Eligible students receive their services through an individualized education program (IEP) or Section 504 plan, and if applicable, includes the accommodation of assistive technology. Assistive technology (any piece of equipment or technology that facilitates the routine aspects of daily life, including work, communication and mobility that ranges from low-tech to high-tech) must be considered for every student found eligible to receive special education services (page 1: Assistive Technology). Additionally, IDEA requires schools to provide assistive technology training to the respective teachers, students and families.
Recently, the European Union approved the AI Act, the first comprehensive AI law (EU AI Act: first regulation on artificial intelligence | News | European Parliament). A principal reason for the legislation is to ensure AI systems used in the EU are safe, transparent, traceable, nondiscriminatory and environmentally friendly. To date, the United States does not have any such legislation; however, the White House Office of Science and Technology Policy has put forth a Blueprint for an AI Bill of Rights, Blueprint for an AI Bill of Rights | OSTP | The White House , which includes five principles: 
Safe and Effective Systems;
Algorithmic Discrimination Protections;
Data Privacy;
Notice and Explanation; and 
Human Alternatives, Consideration and Fallback. 
These principles are intended to guide the design, use and deployment of automated systems to safeguard the public. Similarly, the American Federation of Teachers emphasizes the need for ethical and accountable development, strong regulations, worker protections, privacy safeguards, equity, transparency and inclusivity in the use of AI (Social Media, Artificial Intelligence and Generative Artificial Intelligence | American Federation of Teachers). Everyone in education has a responsibility to harness the good to serve educational priorities while also protecting against the dangers that may arise as a result of AI being integrated in educational technology (Artificial Intelligence and the Future of Teaching and Learning). Consequently, the use of AI by students should be monitored for misinformation, plagiarism and the impact on critical thinking skills, for example.
Currently, 72 percent of individuals with dyslexia use generative AI tools such as ChatGPT (AI aggregates, but dyslexia innovates | Virgin). ChatGPT has the ability to summarize text and make the content accessible. Additionally, chatbots are beneficial to individuals who are deaf or hard of hearing by producing text in multiple languages and generating detailed descriptions of images and videos for the blind and visually impaired. Examples of AI used in schools include software programs that translate print into audio (beneficial for students with dyslexia) as well as augmentative and alternative communication devices that provide a voice to students who are nonverbal or have speech or language impairments. The National Institute for the Deaf developed an app that translates speech into text messages and is working on a collaborative project to develop eyeglasses that display text directly on the lenses. Most recently, robots are being used to develop social skills (recognizing and naming emotions) in children with autism. (How Robots Can Assist Students With Disabilities—The New York Times). 
In addition to students who have differing levels of assistive technology included in their individualized education plans, teachers may incorporate comparable versions into whole-class instruction by teaching students how to use technology that is available through programs that they are using every day. For example, a speech-to-text feature helps students talk through a writing assignment before they begin the actual writing/typing. Writing software tools such as Co:Writer, generally reserved for students with IEPs, are being used to assist multilingual learners using translation support, for example. 
Artificial intelligence provides students with the necessary support to access the curriculum, build self-confidence, increase social interaction, and develop independence. Some critics argue providing such technology accommodations gives students with (significant) learning differences an advantage and fosters dependence on technology. Nothing could be further from the truth. Students who require assistive technology spend exponentially more time and effort on assignments than their peers and as a result often experience a sense of failure and a decrease in self-esteem that sometimes leads to chronic absenteeism. Assistive technology is an absolute need for these students; and the more aware we are regarding this need and the beneficial yet cautious use of AI in education, the better off our students will be.
Recommended Reading
Videos